Control panel type 07-31 is designed for controlling, monitoring or visualising the operation of machines and automation equipment. The product is suitable to connect intrinsically and non-intrinsically circuits of communications systems, data transmission systems, control systems, power, systems, video surveillance equipment, sensors etc. The boxes can also be used for connecting and branching of incoming and outgoing cables with the use of certified connection terminals. Depending on the needs, the panel has built-in electrical components and sub-assemblies, explosion-proof or normal rating in accordance with the specific device installation requirements. The boxes are made of black polyester reinforced with fibreglass or stainless steel. The panel enclosure is closed with a lid or a door. The desktop lid can also be fitted with a sight glass. All control panel compartments are Ex e rated.
Characteristics
tailored to customer needs,
can be used in various control, signal and power circuits,
multiple equipment variants,
available in polyester or stainless steel enclosures.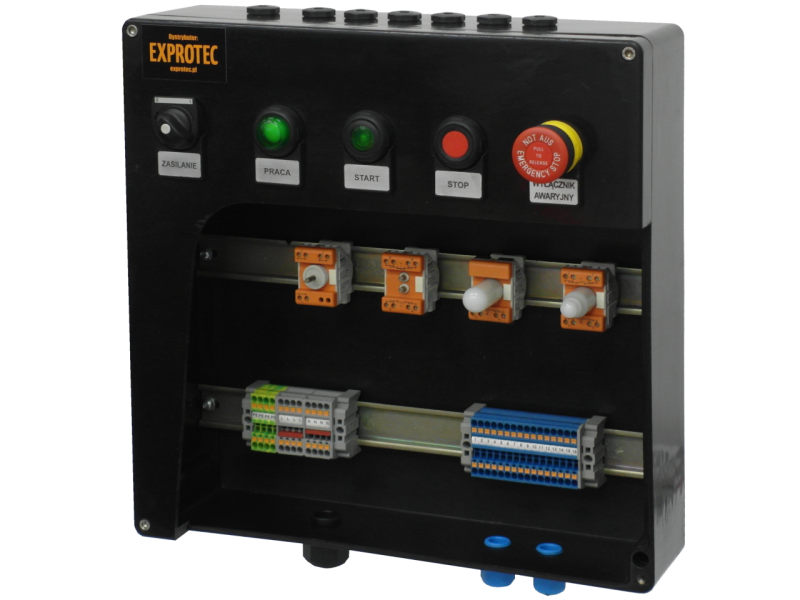 Explosion protection
Marking (depending on the components used)
I M1 Ex ia I Ma
I M2(M1) Ex db eb ib mb [ia Ma] I Mb
II 1G Ex ia IIC TX Ga
II 2(1)G Ex db eb ib mb [ia ma Ga] IIC TX Gb
II 2(1)D Ex ib mb [ia ma Da] IIIC TX Db
II 2D Ex ia op is IIIC TX Db
РО Exial
РО Exiamal
РП Exdeib[ia]I
РП Exdeibmb[iama]I
РП ExdeibmbI
Ambient temperature
-20°C to +40°C -55°C to +70°C
Certificate
OBAC 04 ATEX 277
TC BY/112 02.01. 103 00192
Rated values
Ingress protection rating
IP65/IP66
Version material
07-3103 – polyester, with lid
07-3113 – stainless steel 304, with door,
07-3132 – stainless steel 316L, with lid,
07-3136 – stainless steel 316L, with door.