The Controller type BbCM is designed for control, SCADA visualisation, visual supervision of facilities and industrial automation devices including transmission of signal via copper wire or fibre optic cables. Depending on the needs, the controller has built-in electrical components and sub-assemblies (barriers, separators, converters), explosion-proof or normal rating in accordance with the specific device installation requirements. The controller has a flameproof enclosure type dSD 05 housing electrical equipment. Industrial processes are visualised with the use of HMI panels or 17" or 19" LCD monitors. PLCs, industrial grade computers, specialised control modules, control relays, isolating relays, etc. are used as control devices. The controller is interoperable with CCTV cameras via intrinsically safe video separators or optical fibre converters. The camera image is displayed on the LCD monitor. Data transmission is carried out via intrinsically safe modems, Ethernet communication interfaces, RS485, RS422, RS232 etc. suitable for transmission via copper wire or optical fibre cables.
Characteristics
tailored to customer needs,
image preview from 16 cameras,
visualisation and process control,
interoperability with other controllers,
multiple types of data transmission.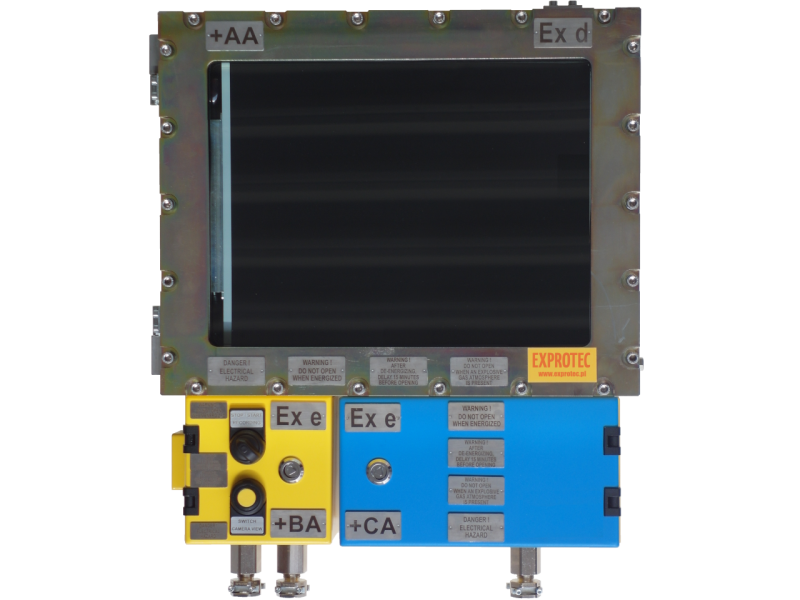 Explosion protection
Marking
I M2(M1) Ex db eb [ia ib] I
I M2 Ex db I
II 2(1)G Ex db eb ib [ia Ga] IIA T6 T5
II 2G Ex db IIA T6 T5
II 2(1)D Ex tb ib [ia Da] IIIC T80C Db
II 2D Ex tb IIIC T80C Db
Certificate
OBAC 06 ATEX 111
Rated values
Ingress protection rating
IP65
Ambient temperature
-20°C ≤ Ta ≤ +40°C
Supply voltage
230 or 42 V AC
Enclosure dimensions
(W x H x D) (340-720) x (200-500) x (200-310) mm
Weight
80..150 kg
Coding
| | | | | | | | | | | | | | | |
| --- | --- | --- | --- | --- | --- | --- | --- | --- | --- | --- | --- | --- | --- | --- |
| B | b | C | M | – | A | * | * | * | * | . | * | * | * | * |
0 – without display
1 – 19" monitor
3 – HMI Panel
5 – 17" monitor
0 – without interface
1 – with RS485 interface
2 – with RS232 interface
3 – with RS422 interface
4 – with TW-118B interface
5 – with Ethernet interface
6 – with CAN interface
0 – without optical fibre signals
1 – with optical fibre signals
0 – without intrinsically safe signals
1 – with Intrinsically safe signals
K – coaxial cable transmission
T – telecommunication cable transmission
S – fibre optic cable transmission
C – leaky feeder cable transmission
X – special version
0 – without connection compartment
d – flameproof connection compartment
e – reinforced connection compartment
05 – flameproof enclosure dSD 05
A – with process refractometer
(no Refractometer – no letter)