Flameproof Transformer Station type IT3Su
The flameproof transformer station type IT3Su is designed to supply equipment with a rated voltage of 380 VAC to 1140 VAC and is suitable to supply frequency converters.
DESIGN:
The enclosure of the transformer station IT3Su consists of five flameproof compartments:
connection compartment with cables or rubber cables supplying the transformer station;
high voltage (HV) compartment housing switchgear;
transformer compartment;
low voltage (LV) compartment housing switchgear and protection equipment;
connection compartment housing outgoing feeder rubber cables and control cables.
Transswitch type version:
station can be delivered with more outgoing feeders on the low-voltage side,
up to nine main outgoing feeders on the low-voltage side,
possibility for installing auxiliary and control outgoing feeders,
possibility for putting in main outgoing feeders in the form of retractable replaceable inserts,
independent safety features for each main outgoing feeder.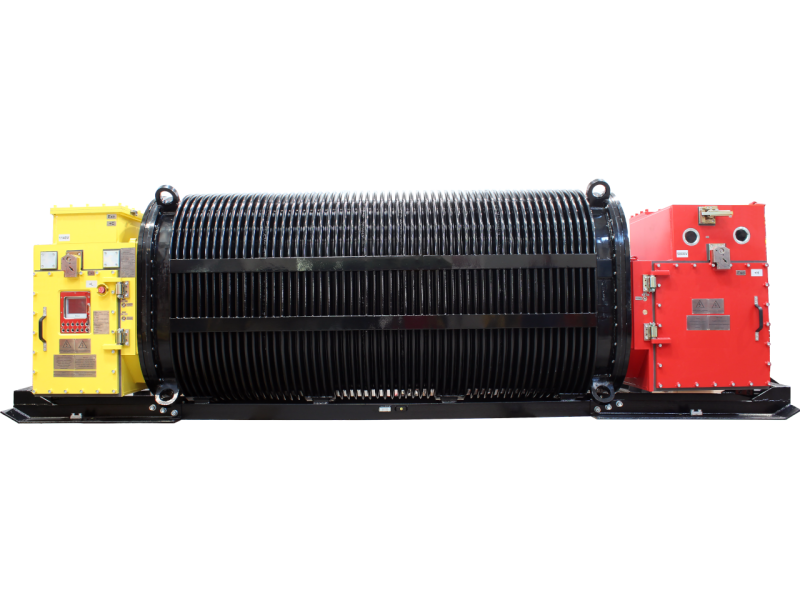 Explosion protection
Explosion proof version
I M2 Ex db [ia ib] I Mb
I M2 Ex db [ia, ib, op is Ma] I Mb
PB Exd[iaib]I
PB Exd[iaib]sI
Certificate
TEST 13 ATEX 0075 X
TC BY/112 02.01. 103,0019
Rated values
Ingress protection rating
IP 54
Operating temperature
-10°C ≤ Ta ≤ +40°C
Rated power supply voltage
Un1 (HV) from 3×3000 VAC to 3×6300 VAC
Rated voltage of outgoing feeders
UN2 (LV) from 3×380 VAC to 3×1200 VAC
Rated power
From 400 kVA to 1800 kVA
Overall dimensions
From 3950x969x1470 mm (LxWxH)
To 5250x969x1470 mm (LxWxH)
Coding
| | | | | | | | | | | |
| --- | --- | --- | --- | --- | --- | --- | --- | --- | --- | --- |
| I | T | 3 | S | u | * | ( | * | / | * | ) |
| | | | | | A | | B | | C | |
| | |
| --- | --- |
| A | Rated power in kVA |
| B | Primary voltage in kV |
| C | Secondary voltage in kV (in the case of a transformer with a second secondary winding or a switchable winding, two values are given) |