Intrinsically Safe Incremental Encoder type IEI-1
Intrinsically safe incremental encoder type IEI-1 is designed to measure the rotation angle of equipment operating in group I hazardous areas (methane and/or coal dust explosion) as well as in group IIB hazardous areas. Thanks to its compact and solid design, it can be used in harsh operating conditions without the need for additional mechanical guards.
These encoders are designed in accordance with the good engineering practice with respect to their safety and meet the requirements of the standards PN-EN 60079-0 and PN-EN 60079-11.

Characteristics
rotational speed measurement,
overall dimensions.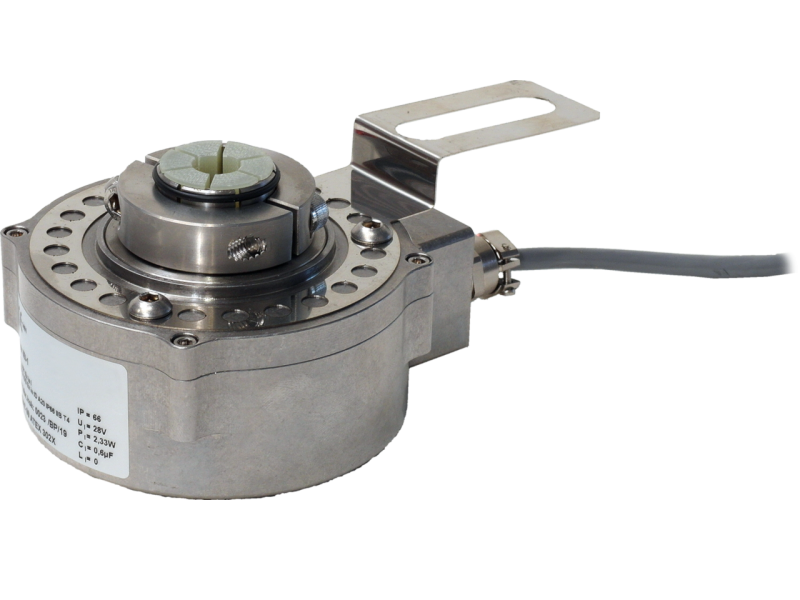 Explosion protection
Marking
I M1 Ex ia I
II 1GD Ex ia tDA20 IP 66 IIB T4
Ambient temperature
-20°C to +70°C
Certificate
OBAC 09 ATEX 302X
Rated values
Ingress protection rating
IP66
Parameters of intrinsically safe outputs (2-3;2-4;2-5)
Io = 95,45 mA
Uo = 27,5 V
Po = 0,66 W
Co for I = 3,55 μF
Lo for I = 51,22 mH
Co for IIA = 2,24 μF
Lo for IIA = 31,22 mH
Co for IIB = 0,672 μF
Lo for IIB = 15,61 mH
Power supply parameters (1-2)
Ui = 28 V
Pi = 2,33 W
Ci – 0,6 μF
Li – 0 H
Number of incremental encoder pulses
up to 1024 pulses/rotation
Maximum rotational speed
up to 3600 rpm
Coding
Supply voltage
2 – 5.6V DC
3 – 12V DC
4 – 15V DC
Type of data transmission
1 – One-wire signal
2 – Differential signal
Other parameters, including intrinsically safe ones, are included in the instruction manual available on the manufacturer's website.